Women of Our League
WOOL Navigation Menu

Home
2019 Exhibition Game
Wednesday, July 31, 2019
Join us in Tulsa, Oklahoma, where the two-time reigning champion, Southwest Bombshells, will square off against the Northeast Dynamic Divas in a much-anticipated match-up of the Women of Our League.
Game Details
Location: Mohawk Soccer Complex (Field 5) Get directions
Time: 6:30-9:00 PM CST
2019 WOOL Meeting
Tuesday, July 30, 2019
Location: Renaissance Hotel and Convention Center, (Room to be determined)
Time: 7:00-9:00 PM CST
What people are saying about WOOL

The WOOL game Is an excellent opportunity for women across the league to enjoy each other's company while competitively playing Beep baseball. To me WOOL means friendship, family, and fun.
— Rebecca Lewis, #55, captain of the Dynamic Divas

I love sports and I was always involved in something in middle school and high school; track, color Gard, and ROTC. When I got to college, there was nothing. When I found out about beep baseball, it gave me an opportunity to participate in a sport as an adult. WOOL is awesome! Not only does WOOL give me an opportunity to play an extra game, but it also gives me an opportunity to play with and meet other females in a predominantly male sport.
— Crystal Melero, #91 for the Bombshells
Beep baseball blows any excuse out of the water that you can't do something because you can do anything if you put your mind to it. I like helping the Women of our League because WOOL gives the women a chance to shine and show what they truly can do.
— Cassie Nipp, #5, pitcher/catcher for the Bombshells

I've been playing with the Divas since the inception of WOOL in 2016. During that historic game in Ames, Iowa, I scored my very first run and had several put outs. Playing in a game with all women allows me to feel like a full contributor to our team. In a sport dominated by men, the presence and community that WOOL is promoting has led to more women joining teams and feeling like we are empowered to perform as full athletes on our home teams as well. I have loved developing friendships with women from teams from all over the NBBA and feel especially proud that every single player and volunteer for each game believes in the power of pink.
— Kirstyn Smith, #22 for the Dynamic Divas
About
Women of Our League (or WOOL) empowers the blind and visually impaired female population to compete on the ball field in the adaptive version of America's Favorite Pastime!
History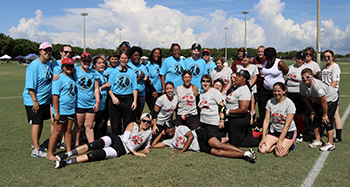 Faith Penn's consistent swing, a hit off of Pedro Martinez, and frank conversations with NBBA leadership sparked the initial idea of an all-female beep ball game.
Kevin Sibson strategically chose Faith to demonstrate batting practice in front of 4,000 spectators with the legendary Pedro Martinez at the plate. A nice sounding hit, and the immediate crowd irruption ignited the grassroot movement regarding the present female experience in Beep Baseball.
Informal research confirmed the following:
1/10 of those in the NBBA who identify as blind and visually impaired players are female.
A majority of those who identify as blind and visually impaired female-players report limited playing-time in high-profile competition.
At the 2015 World Series twenty-five females in the NBBA agreed that hosting an all-female game at the World Series would formally demonstrate female inclusion, celebrate empowerment and diversity for the sport, and improve membership morale. Moreover, the NBBA developed a WOOL committee identifying Coaches,
Captains, and key leaders for the South West and North East regions of the US. In 2016, both teams organized themselves to compete against each other in the first documented all-female game in NBBA history.
The all-female game promises to incorporate an open-door philosophy, include all interested female-participants on the field, and demonstrate fair competition. All who are interested in playing, volunteering, or in any way participating in the WOOL game, The Southwest Bombshells and the Northeast Dynamic Divas invite all female players and volunteers of beep baseball to register with the WOOL project.
Leadership and Planning Committee
Faith Penn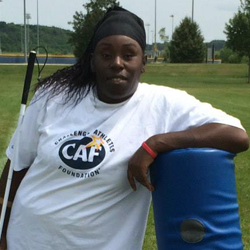 I'm Faith. Although I live and work in Austin Texas, I claim Dallas all day every day. Publicly I'm extroverted, privately I'm introverted. My job as an Employment Discrimination Mediator and Investigator is one of the most fascinating positions I have held. I never thought my career would be in this line of work, but it is, and I love it. When I am not working, I enjoy dancing, reading and playing beep ball, and that's funny because I'm not much of a sports fan at all.
The Austin Blackhawks were introduced to me in 2012 and I attended my first Beep Baseball World Series in 2013; I haven't stopped playing yet! To me, beep ball is freedom, trust, cooperation, and family. The Women of our League (WOOL) is all of those things and much more. Its unity, empowerment, competitiveness, diversity, liberation, an opportunity for women to get out there and give it all we got!
Serving on the WOOL committee these last few years has been very rewarding, and as one of the founders of WOOL, it is something I hold close to my heart. WOOL has provided me with opportunities to create long lasting friendships, build networks, learn patience, and enhance leadership skills. Beep baseball is an amazing sport, and WOOL is something I hope to keep around for a long while.
Jamie Sibson
My name is Jamie Sibson. I live in Austin, Texas. I have been blind since childhood, diagnosed with Retinitis Pigmentosa at the age of 18 months. Throughout my life I have competed in various sports including track, goal ball, and downhill skiing. As a young adult, I discovered beep baseball. I have always had a love for the game of baseball. When I discovered that I could play beep baseball, a modified version of America's favorite sport, I was thrilled. I am currently in my 9th season playing ball. I play for the Austin Blackhawks and for the Southwest Bombshells all women's team. I proudly wear number 8 and enjoy every minute of beep baseball.
In my professional life, I work for the Texas Workforce Commission at the Criss Cole Rehabilitation Center in Austin, Texas. I am the supervisor of the Admissions and Counseling Department. I have been with the agency for 16 years. I have a master's degree in Rehabilitation counseling. I love what I do and enjoy going to work every day. I am proud to help make a small difference in the lives of blind individuals.
LaKisha Holmes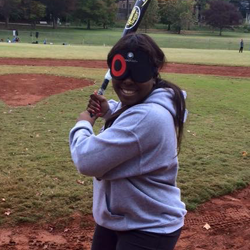 My name is LaKisha Holmes and I am #3 on the SW Bombshells! I currently reside in Baltimore Maryland. I teach Assistive technology at blind Industries and Services of Maryland two adults ages 18-65.
I love participating in the awesome sport of Beep Baseball because it grants me the opportunity to stay in shape, network with other blind athletes, and have fun! When I first heard of WOOL, I became very excited! It isn't common for women to play much during a Beep Baseball game unless they are highly skilled! I knew that the creation of WOOL would allow women to take center stage and show everyone what skills they have!
Being a part of the planning and leadership team of WOOL has been very influential for me! I have been able to build friendships and grow networks as well as gain an amped amount of leadership skills! I truly believe in WOOL and I am very excited to see what successes WOOL Will gain in the future!
Kalari Girtley Jackson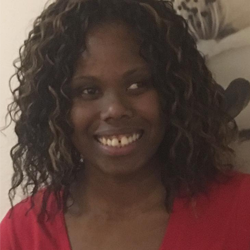 Hello! My name is Kalari Girtley Jackson. I play for the dynamic divas and I am number six. I also serve as the regional Northeast chair for the WOOL board. I play for the Chicago comets and have been with that team since I was 16 years old. I am currently a customer service rep at a non-for profit in Chicago. I am also a proud mother of three beautiful children. I consider myself very outgoing, competitive and extremely friendly. I love meeting new people and especially ladies who want to play beep baseball. I also am a writer and try to do as much writing in my free time.
I first came to the sport of beep baseBall when I was nine years old. I quickly fell in love with this sport and often I referred to this game as my first love! I often tell people this sport saved my life. I discovered it shortly after I lost my vision. This game allowed me to get a lot of my pent-up anger out and also allowed me to freely run again which allowed me to still be a child.
I consider myself as one of the old-timers in the game. For years I was the only female player on my team, and one of the few women in an overly male-dominated league! This is why I was so excited to see the formation of WOOL. This was like a dream come true and it was wonderful to see after years of fighting for equal opportunity and play for females in this league. WOOL Has allowed me to gain great friendships and develop a strong sisterhood in the game. It has always been my personal goal to get more women involved in the sport. We can show these guys girls can play too.
Molly Fleming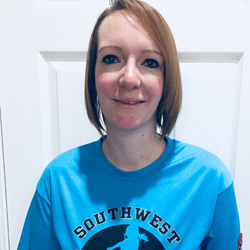 My name is Molly Fleming and I'm #49 for the Southwest Bombshells. I am a volunteer for the Austin Blackhawks. I have been involved in Beep Baseball for 5 years. I help out where I'm needed. I've spotted, pitched, caught, coached and this year I'm learning to score keep. I married into the game of beep Ball. My husband, Jonathan Fleming, is the coach of the Austin Blackhawks. We have one son and are expecting another child in November.
WOOL is important to me because it is a fun way to stay active and get all of the ladies of the league connected. I go back and watch the previous WOOL games occasionally and am proud to watch the women in our league making gains, being competitive and building confidence. Beep Baseball is an amazing game that helps connect people.
Rebecca Lewis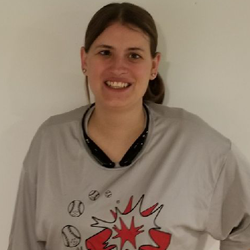 My name is Rebecca Lewis . I live in Indianapolis , IN . I am a wife and mother of two , as well as a criminal justice, and human services student at Ivy Tech Community college. I've been involved with beep baseball for 6 years.
At first I played beep baseball for the physical exercise , but it didn't take long for the sport to mean so much more to me. Many of the players and volunteers in the NBBA have become my second family. Working on the WOOL committee has been so rewarding. The strong, beautiful, hard working Women that form the committee are very good friends to me. I look forward to our conference calls where we can collaborate on ideas such as fundraising, recruiting, and so much more.
The WOOL game Is an excellent opportunity for women across the league to enjoy each other's company while competitively playing Beep baseball. To me WOOL means friendship, family, and fun.
Rosters
Northeast Dynamic Divas
| Number | Name | Position |
| --- | --- | --- |
| 4 | Tamara Atkinson | Player |
| 6 | Kalari Jackson | Player |
| 10 | Jamie Teal | Player |
| 16 | Helen kiprono | Player |
| 17 | Lisa Wright | Spotter |
| 17 | Katherine Jedynak | Player |
| 21 | Samantha Smolka | Player |
| 21 | Terri smolka | Volunteer |
| 22 | Kirstyn smith | Player |
| 25 | Gina Natoli | Player |
| 27 | Evilyn Pairy | Pitcher |
| 29 | Sophie Pairy | Spotter |
| 33 | Christina Smerz | Spotter |
| 55 | Rebecca Lewis | Captain / Player |
| 56 | April McKaig | Coach |
| 71 | Jean Brown | Player |
| 72 | Abigail Riggins | Player |
| 73 | Kathleen Trutschel | Player |
| 74 | Kimberly Blumenthal | Player |
| 75 | Alexis Tyson | Player |
| 76 | Heather Bird | Player |
| 77 | Denise Ayers | Spotter |
| 78 | Kelly Peterson | Volunteer |
| | Missy Lykowski | Scorekeeper |
| | Bailey Windell | Head Umpire |
| | Andrea Guerra | Play-by-play announcer |
| | Allyson LaFon | Volunteer |
| | Linda Skaggs | Volunteer / Scorekeeper |
| | Jara Dell | Volunteer |
| | Rohnna Woodard | Volunteer |
| | Roni Higdun | Volunteer / Scorekeeper |
| | Elysia Gregory | Volunteer |
| | Megan Fink | Player |
| | Cassie Orcil | Player |
Southwest Bombshells
| Number | Name | Position |
| --- | --- | --- |
| 3 | LaKisha Holmes | Player |
| 4 | Tori Lynch | Player |
| 5 | Cassie Nipp | Pitcher |
| 6 | Jordyn Sibson | Catcher / Spotter |
| 8 | Jamie Sibson | Player |
| 11 | Ronny Bellomy | Player |
| 13 | Alexa Owens | Player |
| 16 | Kamryn Sibson | Volunteer |
| 18 | Lauren Whittier | Spotter |
| 21 | Sarai Hernandez | Player |
| 25 | Pam Chesser | Player |
| 33 | Rosie Reed | Player |
| 36 | Faith Penn | Captain / Player |
| 49 | Molly Fleming | Coach / Scorekeeper |
| 71 | Holly Whittier | Spotter |
| 91 | Crystal Melero | Player |
| | Brenda Horwitz | Volunteer |
Stats
2017 WOOL exhibition game
The Southwest Bombshells (2-0) defeated the Northeast Dynamic Divas (0-2) with a final score of 6-2.
2016 WOOL exhibition game
The Southwest Bombshells (1-0) defeated the Northeast Dynamic Divas (0-1) with a final score of 6-1.
Media
Photo and video albums coming soon.
Participate
Thank you for choosing to participate in the Women of our League annual exposition game. Please complete the below form and a WOOL committee member will contact you with next steps. Players will be assigned to the Northeast Dynamic Divas or the Southwest Bombshells based on the state they reside in.
Contact
Thank you for your interest in Women of Our League! Please take a moment to fill out the short form below, and a member of the leadership and planning committee will reach out to you soon.
Get involved with WOOL
Contact a member of the WOOL leadership and planning committee