About the Athlete Development Program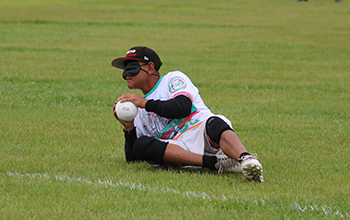 The athlete development program serves blind and visually impaired
individuals by strengthening and encouraging athletes through evidence-based fitness, nutrition, and overall well-being through resources, programming and interactive media.
Important: To reduce the risk of injury, before beginning this or any exercise program, please consult your Primary Care Physician or Specialist for appropriate exercise prescription and safety precautions . The exercise instruction and advice presented are in no way intended as a substitute for medical consultation.
Meet Your Health and Wellness Pros
Start Here: Basic Conditioning and Drills
Strength Training
Offensive Skill Work
Defensive Skill Work
Beep Ball Base Running
Beep Ball Flexibility
Mental Game