16-year-old multi-sport athlete, Tyler Cashman, is a bright star amidst the youth uprising happening in the New Jersey beep baseball scene. Collecting his first hit and run, Cashman is a piece of the future for a Titans organization clearly turning heads in 2019.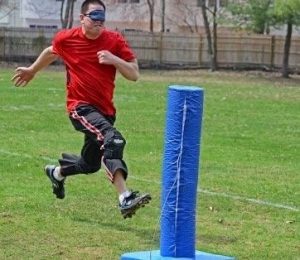 As any athlete would attest, collecting those first key milestones, like a hit or run, are the necessary motivation to boost any rookie's confidence. For New Jersey Titans' Tyler Cashman, those milestones just happened to come during the Indy Beep Ball Bonanza against the reigning world-champion Indy Thunder.
"When I hit the ball, it was a little crazy," said Cashman. "I heard third base go off and I started running. It felt weird, but exciting."
And for a team that's seen a few changes over the past 12 months, Cashman is an exciting addition to the hopeful future of the Titans organization. Son of the club's new President, Casey Cashman, Tyler brings heart, excitement and an athletic background to the squad.
A long-time fan of baseball, and more specifically the New York Yankees, Tyler says the sport has always been his favorite. But as his eyesight began declining two years ago, he was unsure how, or if at all, he'd continue staying engaged with the game he enjoys.
"Baseball has been the one sport he loved, so seeing him back in that box and scoring this run makes me so happy," said Casey Cashman. "It meant even more seeing the field erupt and all of the support from this team. I'm proud to be part of such a supportive organization like this."
Nestor Gonzalez, coach and father of Damien, another youth star for New Jersey, remembers vividly as he watched Tyler dig into the batter's box for the milestone at-bat.
"I told him to relax and swing the bat. I let him know we'd find him," said Gonzalez. "It was a 2-0 count and he laced one opposite field. Greg (pitcher) and I were pumping our fists and the bench just erupted when he tagged that bag."
For veteran and teammate, LaMont Bortley, the hit and run was a reminder to him of his first big moments and why he's stuck with the game through the years.
"When you get that first hit with those shades on, you are hooked," says Bortley. "That was an exciting moment for us and I know he'll remember it for a long time."
A native of Tewksbury, Tyler is consistently finding ways to be an impactful player on any team where he's involved. The school district's only visually impaired varsity athlete, Tyler competes in goal ball and blind golf, and is also the driving force behind Points for Pain, a nonprofit which combines his love of athletics with helping those dealing with chronic disease.
Randy George, a five-year veteran of beep baseball and teammate, says it's been encouraging to be at the heart of the league's youth movement. "It couldn't have happened to a better kid," said George.
"It's been fantastic to watch him," said George. "Success breeds success. Once you know you can do it, the sky is the limit."
It's easy to see success when a teenager makes waves against an international powerhouse like the Thunder. But what has many intrigued about the Titans is their new look, personnel changes and family-like culture, which many boast as the motivator for their rise in the standings this season.
Entering the World Series tournament in Tulsa, Oklahoma, the New Jersey Titans are slotted as the #9 team in the league, seeding them inside the top ten, with a real chance to make some noise this year.
George and Bortley note that this team really hasn't stepped off the gas since departing the fields from last year's tournament. "From the jump this year, everyone has had high expectations for where we're going," said George.
"Each time we step on the field, we have a desire to get better and put in the work," said George. "We've really worked hard to be that cohesive unit."
Gonzalez, or "Ness" to his Titan family, says "it was an honor to be asked to help (as a coach.) I want to see these guys succeed."
"As we've worked this season, I've wanted them to own it," said Gonzalez. "We all want to do better than where we were last year. We know where we fell short, but also know where our strengths are. I respect these guys for wanting to be challenged both inside and outside of the lines."
With big moments, excitement and youthful energy, this New Jersey crew is headed south with momentum. Casey is proud of where her team is and says the Titans are one of a kind.
"Everyone wants to do their best for one another because we truly are a Titan family," said Casey. "On and off that field, we're here for each other."
So how do you follow up your first big hit and performance? For Tyler, he's resting his wrist, after fracturing it while diving into the base on the play. But Casey is optimistic Tyler will be swinging a bat when the Beast of the East tournament comes through New Jersey in early July.
"I just want to get better and help this team," said Tyler. "I play goal ball and stay conditioned, and I'm keeping up with the live streams so I'm ready."
As many around the league echo, don't sleep on these Titans. With Tyler and Damien rising through the ranks, New Jersey is setting itself up for a long run of success with its youth and supportive culture. As the league watches and waits, Tulsa will be the test of their 2019 efforts.
Editor's Note: Tyler has made a full recovery and was able to participate in the Beast of the East tournament, going three for eight and putting five balls into play. Also worth noting is Damien Gonzalez', who plated his first run against the Toronto Blind Jays during the tournament.