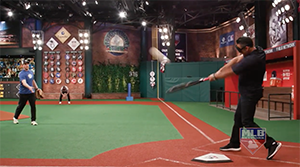 With the off-season in full swing, the fall and winter grind can feel long and lonely in the beep baseball world.
But earlier this month, a couple of former major league superstars donned blindfolds as they took the field with several members of the New Jersey Titans along with Kalari Girtley-Jackson of the Chicago Comets to showcase the grit, electricity and competition of the game.
In the story which aired on MLB Network on February 13, Harold Reynolds and Carlos Pena had a crash course on the fundamentals of beep baseball, where they learned to play their former game using only their ears. Both athletes and on-air personalities took turns in the batter's box, dashing down the baseline and taking grounders in the field to experience firsthand the intensity and challenge of playing baseball without eyesight.
As the video starts, both analysts marvel at the excitement and energy of beep baseball. "Carlos, we've done a lot of things at Studio 42," said Reynolds. "Yes, we have. But I don't think we've done anything like this," said Pena.
"You know these guys came in knowing this was an adaptive sport," said Nestor Gonzalez, a volunteer with the New Jersey Titans and father of 10-year-old Titans' player, Damien Gonzalez. "Harold Reynolds stole 60 bases in one season, but he and Pena looked so out of pocket as they tried to figure out the game."
Pena eventually found his stroke and smashed a shot deep and high, which echoed through every inch of Studio 42.
"It was loud," said Girtley-Jackson, a 24-year veteran of the Chicago Comets. "The studio was set up like a baseball field with stadium seating, dugouts and a full turf field. It was just so wild to be there."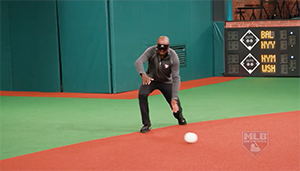 Girtley-Jackson has been involved with the league for many years, developing confidence, meeting her husband, Chris, and now bringing along her family to every World Series tournament in July. But expenses add up quickly, which is why Girtley-Jackson is a champion and advocate for the Challenged Athletes Foundation.
"Many of us don't have jobs, don't make a lot of money or are on extremely tight incomes," said Girtley-Jackson. "Challenged Athletes Foundation believes that everyone can play a sport, and they're committed to helping people get the equipment and cover expenses to do it."
Girtley-Jackson applied for her first CAF grant in 2002, and says she's applied every season since . She said, "It allows me to stay focused on my game and not have to worry about the money involved in getting me there. I can contribute in a big way when I'm focused."
The New Jersey Titans are located close to the MLB Network Studio 42, and Nestor remembers being excited when he got the call saying he and Damien would take part in the story.
"I felt like a 10-year-old," said Nestor. "It was such a great experience to showcase a beautiful sport like this."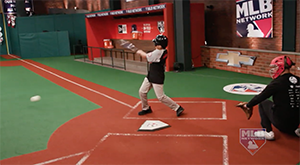 Damien, currently the National Beep Baseball Association's youngest active player, is a core piece of New Jersey's thriving youth program. Steve Rutch, a long-time figure in the New Jersey beep baseball community, has worked with Damien and Nestor to attract, recruit and train players, starting as young as 9 years old, to get involved with the game. And now, with all eyes on beep baseball, the Titans have made a statement that the future is coming.
"We talked about kids with disabilities playing sports and how important that is," said Nestor. "You can't just keep them from competing because they have a disability. There's plenty of opportunity out there."
The New Jersey Titans have been working with the league's Diversity Projects committee to develop a half-day training camp to give even more blind and visually impaired kids in the area a chance to play. The committee is devoted to finding ways to help all affiliates reach and train kids more effectively, with the hopes of a youth game in the World Series in the near future.
For Reynolds, Pena and the rest of the world, their eyes and ears were opened to a new sport that challenges, compels and captivates hundreds of blind and visually impaired athletes across the United States, Canada, Asia and Latin America. With the cameras rolling and the world watching, will this be beep baseball's callup to the big leagues?