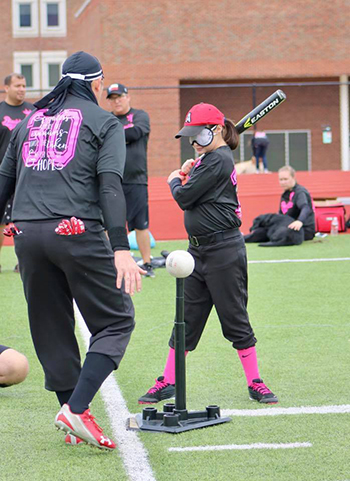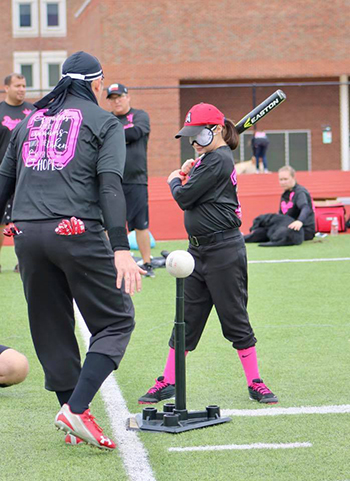 The name Tatyana Contreras may have never been a name tossed around in beep baseball hot stove talks. But at 11 years old, Contreras is giving the Austin Blackhawks a glimpse at the future, while simultaneously setting the stage for a youth movement across the league.
Debuting after a year of defensive drills, base running and coordination exercises, Contreras slapped a solo shot into play during the Blackhawks' 23-11 loss to the Tyler Tigers in Saturday's Great Texas Shootout Breast Cancer and Blindness Awareness event. And according to coach of the Junior Hawks, Brandon Chesser, Contreras has only put in work at the plate for the past month, which makes her contribution to the Blackhawks run production even sweeter.
"When I looked back at the picture of her before she was about to hit, she had this huge smile on her face," said Contreras' dad, Mario, who is also a coach with the Junior Hawks. "She loves this game and the chance to compete."
The excitement and electricity were elevated as Chesser set up Tatyana Contreras in the batter's box. "You could see those first game jitters just oozing as her hands shook and she had happy feet," said Chesser.
"I told her that it was just like practice," said Chesser. "She swung hard and honestly knocked the crap out of that ball."
Contreras bounced out of the box with a youthful stride and headed straight for her target 100 feet away. "I asked myself, where is that sound. I have to get to that buzzing sound," said Contreras, who had always practiced with bases at 60 feet from home plate and now found herself with 40 extra feet to maneuver.
"It felt awesome to get that hit," said Contreras. "Beep baseball was hard at first, but with practice and getting used to the blindfold, I'm feeling much better about it."
Outside of bowling, Contreras had never really had an interest in sports before being introduced to beep baseball last year. A piano player with a desire to become a music teacher, Contreras found her stroke quickly after getting in work with coach Chesser.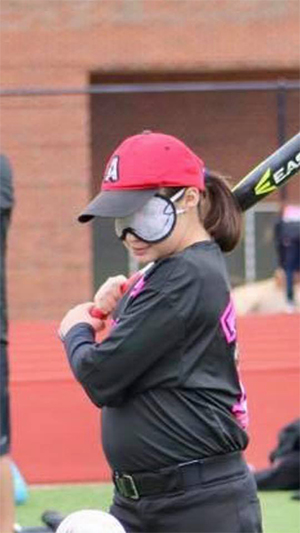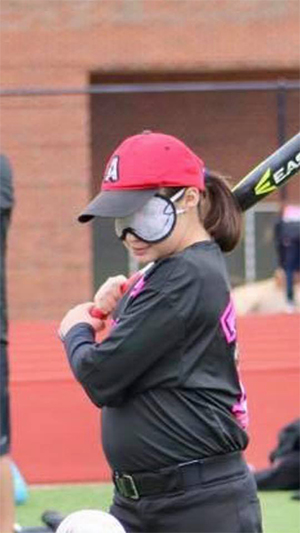 Beep baseball was never on the radar for the Contreras family, yet their daughter has shown a welling excitement and noticeable improvement since she first took the field. "She shares it with everyone she knows," said Lydia Contreras, Tatyana's mom and the Team Mom for Austin's Junior Hawks.
"She's been so eager about the game," said Lydia Contreras. "It's made her much more open and sociable."
Mario and Lydia Contreras were serving in support roles with the South Austin Optimist Little League where Chesser was coaching a team for one of his children. Lydia Contreras met Brandon Chesser's wife Pam, who took an interest in Tatyana after hearing she had a visual impairment since birth. "She doesn't see anything out of her left eye," says Lydia Contreras, "we have had her as a Braille reader since she was a year old."
Brandon Chesser invited the Contreras family to a scrimmage between the Austin Blackhawks and the Southwest Bombshells. And that's when Tatyana Contreras fell in love with the game.
"During this game, Taty was so into it that she was a home plate umpire," said Brandon Chesser. "We knew we had to get her out on the field and involved in this sport."
Fast forward 12 short months, and now Tatyana Contreras is making an impact on the field against a team ranked in the top 10 across the nation.
"After the game against Tyler, I told her that she was leading us through this handshake line," said Brandon Chesser. "Every player stopped to shake her hand and tell her what a big step it was to compete in a game like this with adults."
Several members of the Austin Blackhawks have been pivotal in Contreras' development and the launch of the Junior Hawks. "Not every youth player is going to learn the same way," said Pam Chesser, coach with the Junior Hawks. "A lot of times you have to change your approach and cater to the way they learn best."
With Tatyana Contreras suited up and training underway, Brandon Chesser knew the Junior Hawks couldn't stay one member strong forever. The Junior Hawks are Austin's answer to a league that desperately needs an infusion of more youth to keep it growing.
"Traditional Little League offers so much support for these kids, and I realized early on that the blindness community really doesn't offer that kind of support and outreach," said Brandon Chesser. "I want to tell parents that they don't have to keep these kids sheltered until high school. They can compete like this."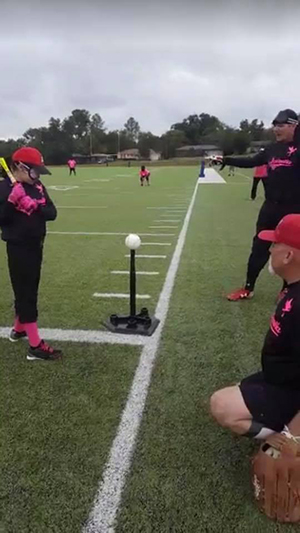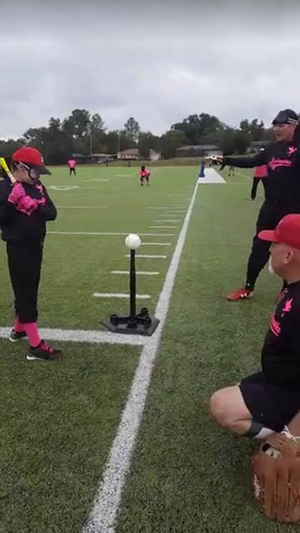 Chesser's vision for beep baseball development for youth isn't far off from the traditional model, either. "You get these kids out there early, swinging off a tee like they do in Little League," said Chesser.
"You teach them how to swing a bat, with a nice, steady swing that makes a perfect beep baseball swing," said Chesser. "Getting these kids ready with the basics is going to move our sport forward. It's going to make the game so much more competitive."
Beep baseball is heralded time and time again as an instrumental piece in character and identity development, a social and competitive outlet for blind athletes, and a supportive family atmosphere offering much needed encouragement along the way. Lydia Contreras has seen the strength of the beep baseball community in her short time with the game.
"They treat Taty like she's a sister," said Lydia Contreras. "They've helped her out so much, and I just can't thank them enough."
Jamie Sibson of the Austin Blackhawks has spent time working one-on-one with Tatyana Contreras over the past year. "It took her a little while to feel comfortable getting down on the ground to get the ball, but she gets so excited about the game now," said Sibson. "I think she is eager to have a team of individuals her own age to play with and compete against."
Pam Chesser has seen tremendous strides in Contreras, both as a person and a player. "I've watched her come out of her shell as she's gotten involved with the game," said Chesser. "She does so well at making the adjustments as she learns. It's been awesome to see her get so excited."
For now, Tatyana Contreras is penciled in as the pinch hit superstar on Saturday's scorecard for the Austin Blackhawks' fall squad. But in the not-so-distant future, Contreras' name will likely be a mainstay in many headlines on youth gameplay across the sport of beep baseball, thanks in large part to her dedicated family and the coaching efforts of Brandon and Pam Chesser.
The Junior Hawks are actively seeking new players to bring a full squad to the 2019 World Series in Tulsa, Oklahoma, in hopes they can find an opponent to challenge while there. The team has organized a training camp scheduled for Saturday, October 20 from 10:00 A.M. to 5:00 P.M. at the University of Texas intramural fields. Anyone interested in learning more about the Junior Hawks or participating in the 2019 season can contact Brandon Chesser at 512-423-1939.
To get the latest updates on all youth initiatives happening around the league, please visit the National Beep Baseball Association's youth page to read more and subscribe to email alerts.